Zoom to your Battery Room - Choosing the right iBOS Management System for your business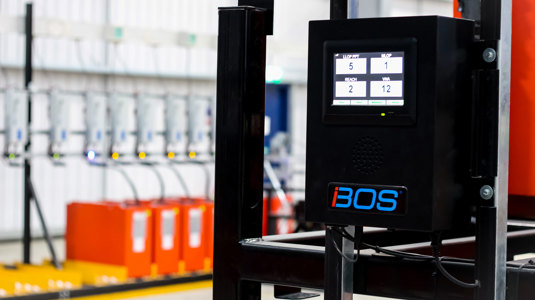 Choosing the wrong batteries to charge can lead to shortened battery run times and battery life. This situation worsens the bigger your battery room and leads to extensive and expensive problems. 
The answer to all these issues?
Your business needs a battery management system and the iBOS system is industry standard. It takes away the confusion and guessing game of which battery to choose next. Operators no longer choose their favorite, the one closest to the door or the newest battery. The iBOS manages your battery room, no matter the size, effectively and efficiently. The iBOS makes sure that batteries are rotated, which is critical for battery life and maximum run times.
The system will tell you which battery to choose next via a bright blue pick light or a simple screen, depending on which iBOS you choose.
How does an iBOS work?
An iBOS or Intelligent Battery Organization System features a Sentinel that monitors the charge of each battery, which can be mounted on any charger. Moving onto the brains of the iBOS, the Controller takes battery data from the Sentinel and the correct sequence of available batteries you can use. It features a touch screen display showing the next battery to take, which can even be extractor mounted. There is a range of additional screens and displays that can make the visuals even easier to see and understand for operators, such as the Ops Display 2.0. The operations display offers a real-time view into your current battery room straight to the office.
If an operator mistakenly chooses the incorrect battery, the Shouter will sound, letting you know that you have selected the wrong battery. You gain extensive battery room data knowledge from the iBOS via IBOSWORLD, an internet-based service that provides essential battery availability and utilization data.
Why choose an iBOS to manage my battery room?
The iBOS is very simple to use, with a read and react system and large display which tells forklift operators which battery to pick next.

 

Mispicks are much less likely because if an operator chooses the wrong battery, the shouter alert will immediately let them know.

 

The Real-Time Monitor lets you see all the data needed to manage your battery pool effectively.

Your batteries will have a longer life as they can cool down, which means a more cost-effective battery room with fewer battery purchases.

You will have better visibility of your battery room. You can easily see which pieces of equipment aren't working, along with any other issues in your battery room, via the management reports the iBOS

Fewer and faster battery changes are needed as the iBOS saves between 2 to 5 minutes per change, resulting in 30 minutes longer battery run.

 

Data-driven battery purchases can be made, and managers can decide if they have too many or too few batteries in their pool.
Which iBOS is suitable for my battery room?
There are four different iBOS systems available to help maximize your battery room performance. 
Model – BOS-CB6300 
iBOS LITE provides a simple, cost-effective solution for smaller battery rooms and takes the guesswork out of choosing the proper battery. How do you know which battery to choose next? Simply follow the blue light! It can manage up to 50 chargers for each battery type with easy-to-use pick lights, which offer clear direction on which charged battery to choose next. Simple! 
Model – BOS-CB6400 
This iBOS features an audible alarm that indicates a mispick and can warn of potential faults within your battery room. The iBOS Basic is the perfect entry-level battery management system as it saves money in your warehouse by eliminating waste and increasing productivity. The clear blue light indicates which battery to choose next. There is an audible alarm system if an operator picks the incorrect battery and warns of any equipment faults within your battery room. 
Model – CB6500 
Capable of managing up to 100 chargers in up to 9 battery pools, the iBOS Plus is also data enabled. It records vital metrics that give feedback on how your battery room is performing. This is the perfect iBOS for a mid-size battery room which have multi-level battery racks. A subscription will connect to iBOSWORLD, which offers battery room data with five years of management reports and the correct fleet right-sizing information. 
It also features a built-in colour touchscreen and easy to use bright blue pick lights telling operators which battery to choose next, as well as a built-in shouter alarm letting you know when the incorrect battery has been picked. 
Models – BOS-CB6700 & BOS-CB6710 
The most powerful and most configurable Controller. It is the gold standard for larger battery rooms that have multi-level battery racks and need in-depth data. Used in conjunction with a subscription, you can connect to the iBOSWorld internet service for up to five years of management reports and fleet right-sizing information. It can manage up to 350 chargers and nine battery pools. Again, it features the bright blue pick lights, built-in colour touchscreen display and an alarm if an operator chooses the incorrect battery. It also features a built-in UPS system that protects against power outages and surges. 
No matter what size of battery room you have, you can maximize the performance of your batteries using an iBOS system. For more information on the right iBOS system for your battery room needs, get in touch with us via our website or email sales@phlsci.com or sales@phlsci.co.uk.