iBOS Pro Controller
Models: BOS-CB6700 & BOS-CB6710.
The most powerful and most configurable iBOS® controller. This controller is designed for larger battery rooms that have multi-level battery racks and utilize a battery changer. With a subscription, it allows connection to the iBOS World Web Service via the Internet for up to five years of management reporting and fleet right sizing information. With its list of optional accessories, iBOS® Pro is easily configurable to give you the best fit for your battery room.
Manages up to 350 chargers based on the model is selected.
Manages up to 9 battery pools. A pool is a group of the same battery/truck type.
Easy to use "read and react" system. Built-in color touch screen and bright blue pick lights on each charger tell operators the correct battery to pick next.
Built-in shouter alarm alerts the operator, with a loud alarm when the wrong battery has been selected.
Summary statistics on good and bad battery selections and a graph of battery availability for the past seven days can be viewed on the touch screen.
Built-in UPS to protect against power outages and power surges.
BOS-CB6700

Chargers: 200 (max)
Scrolling display ports: 3

BOS-CB6710

Chargers: 350 (max)
Scrolling display ports: None
Dimensions: 23"H x 20"W x 8.5" D (58.42 cm H x 50.8 cm W x 21.59 cm D)
Weight:  39.75 lbs. (18.2Kg)
Input Voltage: 100-240 VAC 50/60 Hz
Power Usage: 1.3 Amp (max)
Power cord length: 1 Ft (30.5 cm) (to UPS)
Operating Conditions - Controller: -40° to +85°C
Operating Conditions - Sentinel: -0° to +55°C
System Diagram with Peripherals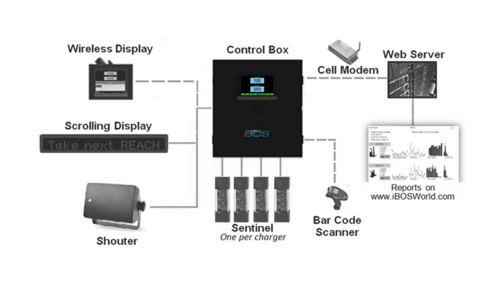 Can the iBOS detect a bad battery?
Yes, the iBOS system generally serves as a quality control device to give out batteries that are fully charged and cooled down the longest. When a battery is connected to the charger, the iBOS records the connect voltage of that battery with the date/time stamp of the connect event.

The iBOS system tracks the voltage profile of the charge cycle through the charging process. If the battery fails to achieve the correct voltage level within the next 24 hrs, the battery is considered a charger fail (Charger No Start on the batterymanagement.net website) and is put into Quarantine and the operator is notified through the iBOS control panel screen.