iBOS® Basic Controller
Model: BOS-CB6400.
The iBOS® Basic saves money in your warehouse or facility by eliminating waste and increasing productivity. The iBOS® Basic takes the guesswork out of choosing the correct battery, the battery that is fully charged and most cooled down. It's really easy to use, the blue light indicates which battery needs to be picked next.
The iBOS® Basic features an audible alarm which indicates a mispick and can warn of potential faults within your battery room.

Simple operation.
Bright, easy-to-see blue light tells you which charger to go to for the fully charged and most cooled down battery.
Pick light is in an enclosed container protecting it from dirt and grime.
An audible alert sounds when a mispicks occurs.
The built-in alert system can also be used to diagnose any potential equipment faults.
Simple installation:


Charger labels are not required.
Can be done with local maintenance staff and standard tools.
No certified installation required and no system configuration needed.
Ambient Temperature:  32 to 104°F (0 to 40°C)
Storage Temperature:  32 to 158°F (-10 to 70°C) 
Ambient Humidity: 20 to 80% RH (non-condensing)
Storage Humidity: 10 to 90% RH (non-condensing)
Rated Voltage: 100 to 240VAC
Operating Frequency: 47Hz to 63Hz
Operating Voltage Range: 90 to 264VAC

Operating Conditions - Controller: -40° to +85°C

Operating Conditions - Sentinel: -0° to +55°C
Notes:
Controls up to 50 Sentinels in one pool. 
* Note: A pool is a group of the same battery type and voltage.
One Controller per pool is needed.
Includes: 
Controller
Power supply - Input: 100 - 240 VAC 50/60 Hz
2 sets of data cable: Each set includes 25 feet (7.6 m) of data cable with one coupler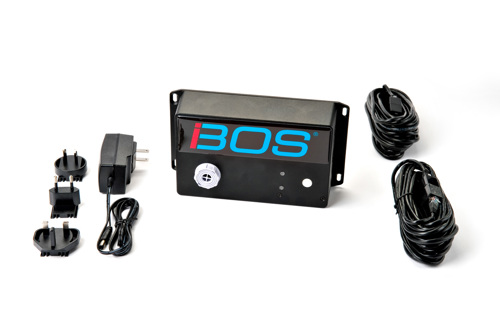 How many battery positions can I connect to one single controller?
You can connect a maximum of 50 positions in one pool, if you have more positions you will need more than one controller.
The volume is too loud/quiet, can I adjust this?
It is not possible to adjust the volume, but it is possible to change the tone. if you contact your local Philadelphia Scientific distributor, they will be able to provide you with detailed instructions.
What else do I need apart from the iBos basic controller?
The iBos basic will require one sentinel for each charger, so the quantity of sentinels will depend on the amount of chargers you will be using.
Is online reporting an option if I purchase an iBos basic?
Online reporting is not available on the iBos Basic, if online reporting is an important factor then we would suggest purchasing an iBos Plus or Pro, they come with many additional features as well as reporting.
Can I connect a tv screen to show the next available battery?
unfortunately this feature is only available on the iBos Plus or Pro.