Flip-Top Vent Caps
Flip open…fill up…snap shut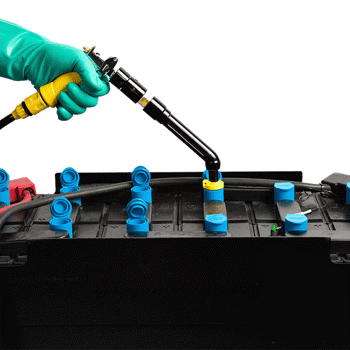 Philadelphia Scientific's Battery Watering Gun makes battery maintenance fast, easy, safe and precise. But, those annoying screw-on and off vent caps waste time! For each cell, screw it off, put it somewhere safe, fill the cell, then retrieve the cap and carefully screw it back on. Then do the next one and the next. Those screw caps interfere with the whole idea behind our guns — to get the job done fast. The Flip-Top vent caps are the perfect, affordable way to eliminate the time-consuming effort involved with screw caps. You simply flip open the lid, insert the watering gun, fill the cell to the correct level and then snap the lid securely shut. And, you'll never again have the problem of forgetting where you put a screw-off cap or dropping it and having it roll out of reach. The huge openings in our Flip-Tops make electrolyte level checks much easier than with other less sophisticated designs. This makes them the perfect match for our popular automatic-shutoff Battery Watering Gun.
Wide mouth openings: The extra wide opening enables use of the Philadelphia Scientific GUN-X Battery Watering Gun. This exclusive design is a new standard in the industry. The large vent opening makes it much easier to check electrolyte levels than with smaller vent openings.
Built-in acid-splash baffle: The vent caps' design incorporates a baffle that prevents acid splashing from the cell. This reduces watering frequency and keeps the battery surface cleaner.
Self-draining: The Flip-Top also avoids the problems common to screw caps: acid dripping on top of the battery where the screw caps are placed during filling. With the Flip-Top, any liquid in the lid stays in the lid and drains back when the lid is snapped shut.
Rugged construction: The acid-resistant polyolefin construction and rugged mechanical hinges are designed to stand up to years of service unlike some flexible hinge designs, which can break during rough usage — especially at low temperatures.
Locks in place: When a Flip-Top is installed on a cell, it locks in place with a positive detent action that you can feel. This prevents it from vibrating loose during operation of the truck.
(Patent #5,993,991)
Short Flip-Top (ACC-FTB)
Fits all US quarter-turn fill ports
~0.5" Tall (1.75 cm)