Pump Controller for Extractor-Mounted Water Supplies for Water Injector Systems™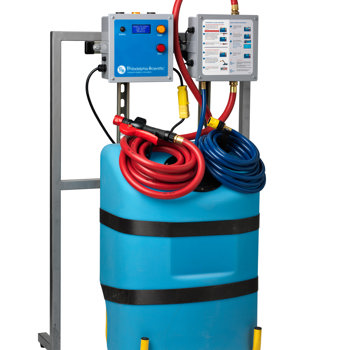 The pump controller has been developed specifically to improve warehouse and DC battery maintenance programs when used with the Philadelphia Scientific Water Injector System™ and the Water Injector Spider  System™. The controller monitors output pressure to make sure that correct water pressure is being supplied to the battery watering systems at all times.
Automatically shuts off when all cells in the battery have been filled.
- No more looking at the spinner to know when to stop watering.
- Yellow light on the pump controller goes out to signal that it is OK to release the handle and disconnect from the watering system.
- Discourages early termination of watering by operators, which leads to inconsistent fill levels on the same battery.
Prevents use when filling conditions are not correct.
- Unit turns off when water pressure is too low.
- This will prevent overfilling of cells. Low pressure prevents the watering system valves from properly shutting off, which leads to overflows. The valves are normally open and require water pressure to close them.
- Low pump pressure can be caused by a faulty pump, broken components or leaks in the output hose.
The unit turns off when the water pressure is too high.
- Pressure that is too high can cause valves to shut off early, leading to dry cells.
- Built-in pressure regulator means water pressure is never too high to work with Water Injector Systems™.
- Unit shuts off if the regulator fails.
- Unit turns off when the water storage tank is empty to prevent run-dry damage to the pump.
- Fault light on pump controller illuminates in incorrect pressure or run-dry situations.
The built-in display provides useful information.
- Real-time pump output pressure during the filling process.
- Total run hours for the pump.
- Number of battery-fill cycles, which allows productivity measurement.
- Fault status.
Easy to understand and use.
- Simply press the "Start" button, connect the hose and squeeze the handle until the pump light turns off. The controller stops the pump automatically.
- You can actually feel the system turn off when the battery is full!
- The absence of a spinner eliminates a source of potential confusion.
System Exposure Temperature: 35° to 160°F (2° to 71°C)
Power Source: 115 VAC
Nominal Current: 9.6 Amps
Output Hose Size: 1" (2.54 cm)
Output Hose Length: 15 ft (4.6 m)
Weight: 68 lb. (30.8 kg)
Product Height: 41 inches (104.1 cm)
Product Length: 27 in (68.6 cm)
Product Width: 29 in (73.7 cm)
Capacity: 20 gal. (75.7 L)
Power Cord Length: 25 ft (7.6 m)
Horse Power: 3/4 H.P.
Notes: Used for filling the Water Injector System from a battery changer.