HydroFill™ Watering Cart
Gun Water Supply
The HydroFill ™cart is a 10 US gallon (37.9 liter), battery powered unit that is designed to work with our Watering Guns. It is a sturdy, easy to transport cart that handles like a hand truck.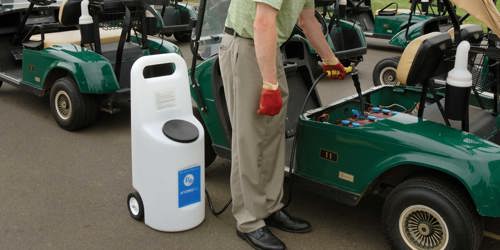 The HydroFill™ cart features a 2-wheel configuration that allows for easy maneuverability up stairs and ramps. To use simply fill the tank from any available water source through the large opening. Connect your favorite Watering Gun to the end of the 9 foot (2.7 meter) hose and then water your industrial battery.
The HydroFill ™cart is DC powered from a sealed cell 12-volt battery that can be charged from any A/C outlet.
Easy to use – Turns ON when you squeeze the Watering Gun trigger. Turns OFF when the gun shuts off.
The HydroFill™ Cart is supplied with 9 feet of hose, a sealed cell 12 Volt battery and a battery charger.
This water supply is also compatible for use with the Stealth Watering System. Additional adapters may be required. This unit is not compatible with the Water Injector System.
Flow Rate: 0.5 gpm (1.9 lpm)
System Exposure Temperature: 35° to 160°F (2° to 71°C)
Output Hose Size: 3/8 in (0.95 cm)
Output Hose Length: 12 ft (3.7 m)
Weight: 30 lb (13.6 kg)
Product Height: 37 in (94.0 cm)
Product Length: 17 in (43.2 cm)
Product Width: 17 in (43.2 cm)
Capacity: 10 gal (37.9 l)
Range: Unlimited
Wheel size: 6 in (15.2 cm)
Wheel Type: Plastic/Rubber
Notes: Water Supply for the Watering Gun
Part ID: CRT-12V