Scrolling Display
Wall Mounted Sign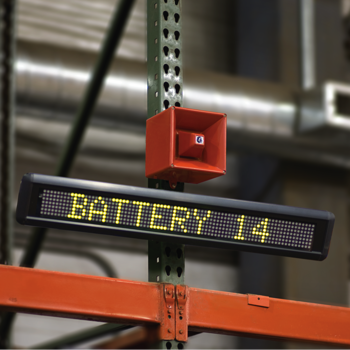 Bright scrolling LED sign tells operators which battery is to be selected next.  One display is used per battery pool and is mounted on a wall or battery rack in the location that provides the best visibility for the operator.  The battery that is fully charged, and that has been cooled down the longest, will appear on the display.  
One display per battery pool. Up to nine scrolling displays can be attached to a controller. 
The scrolling display updates every 15 seconds.
Take the battery from the charger as indicated by the display.
Bright LED letters make the sign very easy to see.
Power input requirement: 110 to 240 VAC 50/60 Hz. at 1.8v
Dimensions:  26.5"x4"x1.5" (67x10x4 cm)
Weight: 8.2 lbs. (shipping)
Mounting: 2 wall brackets
Programming: Remote Control Device
Connection: CAT 5 Y connector - Connects up to 3 displays per port (9 total for system)