Flame Arrested Water Injector Classic System
The Fastest Battery Watering System - Now available with a flame arrestor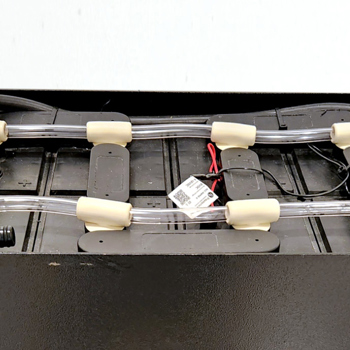 The Flame Arrested Injector System™ is the world's fastest, and most reliable way to add water to industrial batteries. This system features continuous tubing to deliver water, in series, to each valve to fill the battery as each cell is filled the valves shut off. It's now available with a fitted flame arrestor.
It is very simple to use: an operator clicks on a water-hose connection, opens a valve, and in 15 seconds or less the entire battery is watered - perfectly. Clear continuous tubing allows you to see the water flowing through the system so that you know your battery is being watered.
The Flame Arrested Injector System can be ordered as a "finish on-site" Semi-Assembled system.
The system must be used with our factory-authorized Injector Water Supplies to ensure proper performance and our famous 15-second fill. 
The holes in the tubing do not come already punched with a Semi Assembled System. Instead, the installer must punch holes in the tubing to fit each system (punch tool available). This Semi Assembled option provides great flexibility as it can be used on any battery with the correct, or fewer, number of cells. It is most useful where there are a variety of battery types to convert in the field. We provide battery layout guides for installers to use.  
The installer snaps the string of Water Injectors onto the battery, sliding each Injector along the tubing until the layout is perfect. They then mark the tubing with a pen, moves each Injector aside, punches a hole (actually a pair of holes), and then returns the Injector to its marked location. The installer then trims away any excess tubing, attaches the end Injector and that's it. 
The flame arrested Injector System adheres to the following Statute:
Cal/OSHA Statute T8-5185(n)
(l) Precautions shall be taken to prevent static discharge, open flames, sparks, short circuits, or electric arcs in areas where batteries are charged. When racks are used for support of batteries, they shall be made of materials nonconductive to spark generation or coated or covered to achieve this objective. Tools and other metallic objects shall be kept away from the top of uncovered batteries. Chargers shall be turned off when leads are being connected or disconnected.
(m) When charging batteries with vent caps, the vent caps shall be kept firmly in place to avoid electrolyte spray. The battery compartment cover(s) shall be open to dissipate heat.
(n) Facilities for quick drenching or flushing of the eyes and body shall be provided in accordance with Section 5162 unless the storage batteries are:
(1) equipped with explosion resistant or flame arrestor type vents; or
(2) located in a compartment or other location such as to preclude employee exposure.
Input/Operating Pressure: <80psi
Acceptable Filling Temperature: 35° to 160°F (2° to 71°C)
Valve Body Material: Polypropylene
Max Valve Height above Vent: 1.45in  (2.79 cm)
Flow Rate: 8 to 10 gpm (30 to 38 lpm) per string
System Exposure Temperature: -20° to 160°F (-29° to 71°C)
Tubing Material: Proprietary flexible PVC
Flame Arrestor Material: Polypropylene & Polyethylene
Fitting Type (Compatible with Vent Opening Types): US 1/4 Turn & DIN
Maximum number of valves per input coupling: 24
Input Hose Size: 1/2 in (1.3 cm)
What is the length of the Injector with the Flame Arrester Adapter?
2.2" extension into the vent well
What pressure does the water injector system operate at?
Operational pressure is between 25 and 35psi
How long will it take to fill my battery if I used a Water Injector system?
Filling a battery with this system can take approximately 15 – 30 seconds but this will depend on how low the electrolyte level is.
How can I tell if my battery needs topping up?
We recommend purchasing a Blinky so that you can check your electrolyte levels in a safe and fast way.
If I can't see the electrolyte level how do I know when it is full?
The system will automatically shut off when full.