eGO!Log Battery Life Monitor
Measures battery performance and prevents costly damage.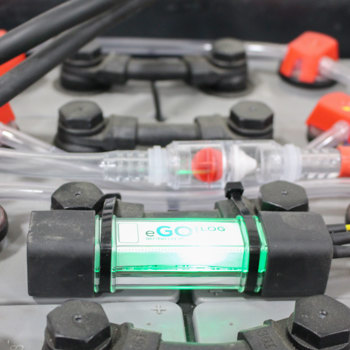 Forklift batteries may be the most overlooked and undermanaged assets in a warehouse and when not properly maintained can reduce productivity and require expensive repairs and/or premature replacement. Using microprocessor technology the eGO!Log monitors a battery's performance and stores the data on its USB flash drive. Battery users are provided with clear visual indications of the current electrolyte and temperature status and a distinct alarm indicates when a battery has been without water and for how long. The data eGO!Log collects is easily uploaded to batterymanagement.net where it is displayed in an interactive, user-friendly interface. This data can be used to inform improvements in operational and maintenance procedures, leading to increased run times and reduced costs, and may also be used to assign accountability for battery abuse.
Extensive data: The already comprehensive eGO!C data is supplemented by detailed logs for battery voltage, temperature, and electrolyte levels.
Simple data transfer: Send battery data to the Cloud via simple file uploads, easy to use and no 'dongles' or 'receivers'.
Easy to use: Simply log in to your dashboard on www.batterymanagement.net and the battery data is brought to life in interactive graphics that require no specialist knowledge.
Smallest footprint: The slim eGO!Log is just 25mm (1 inch) high and fits the smallest batteries.
Cost Effective: Comprehensive suite of features and benefits at a category-leading price.
Powerful suite of battery management technology: Use eGO! battery information with iTAG™ MHE paper-free asset and service tracking and the iBOS® battery management system for 360° understanding.
Indications on the eGO! Mini assist operators:
1. Battery Water Monitor - The eGO!Log has both the super bright LED's and an audible alarm that not only signals the battery is without water but for how long. 
2. Battery Temperature Monitor - A high-temperature indicator to alert operators if the battery is overheating. 
3. 'USB absent' indicator to show when the USB is not connected.
Simple and quick to install: Only three leads, two for power to connect and one for the electrolyte probe. Complete the fields in the online form to configure the eGO!Log with the battery data.
5 Year design life: Designed to last the life of a battery with a polycarbonate impact-resistant housing.
Warranty: The eGO!Log comes with a one-year conditional warranty and has an anticipated design life of greater than five years.
The new eGO!Log has utilises the market leading super bright LED indicators from the Smart Blinky range.


Audible low electrolyte alarm to alert operators even when LEDs are out of view.


24 hour Smart Delay to reduce the risk of incorrect topping and to reduce topping frequency.


Lead-Acid and VRLA versions available.


Simple battery data transfer to the Cloud.


Voltage, temperature and electrolyte levels sampled every 60 seconds, recorded and graphed.


Small footprint.



Multi-voltage and easy install.
Operating Voltage

Nominal Current

12v/24v/36v/48v/72v/80v

1000mW

Indications

Amber: Over Temperature

Green Flash: OK

3 Green Flashes then 1 Red: Fill Soon

Red Flash + Chirp: Fill Now

White: USB Absent

Reverse Polarity

Yes

Connections

(Q) FlexiTap piercing

Flame Retardant

No

IP

65

Fuse

2 on board, plus 1 inline (S), 2 in FlexiTap (Q)

Warranty

1 year