Half the chargers, half the cost!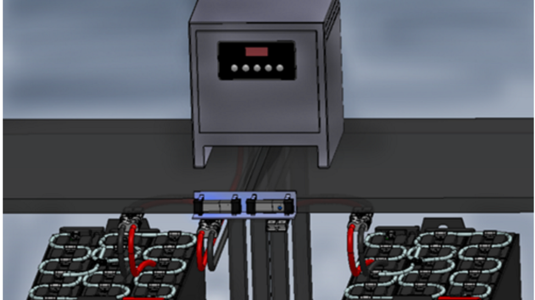 MONTGOMERYVILLE, Pa., June 21, 2016 – Philadelphia Scientific, a leading international manufacturer of industrial battery components, accessories and tools, has introduced the iBOS® Charger-Splitter, a tool that enables battery rooms to utilize half the number of chargers they typically use, saving significant capital costs.
Used in tandem with the iBOS® battery room management system, the Charger-Splitters are installed onto conventional battery charging systems. A flashing LED alerts operators to disconnect a charger from a charged battery and plug it into a paired uncharged battery, enabling the sequential charging of two batteries with one charger.
"Our data from over 25,000 chargers under management worldwide shows that the typical conventional charger is used only 15 to 20 percent of the time," said Harold Vanasse, vice president of sales and marketing for Philadelphia Scientific. "So, there certainly is opportunity to increase charger utilization and decrease their idle time if you have the right tools. In some cases, Charger-Splitters will enable battery room managers to reduce the number of chargers used by 33 to 50 percent. For the average battery room, that's a savings of tens of thousands of dollars."
Warehouses and DCs that are planning a new battery room can achieve 50 percent savings on charger purchases because they will require only one charger for every two batteries, not one charger per battery. "This savings is often enough to pay for an iBOS system and the Charger-Splitters required," said Vanasse.
For existing battery rooms, Charger-Splitters can save money in a variety of circumstances.
For battery rooms that must increase capacity by purchasing more batteries or trucks, half the number of chargers will be required than if Charger-Splitters are not being utilized. Charger-Splitters also provide an ideal solution when managers do not want to install costly additional power infrastructure to support additional chargers in a battery changing area. And Charger-Splitters are a perfect fit for applications where there is a seasonal use of rental batteries. Battery room managers can leave open rack positions next to their current batteries and just add batteries when needed without the need to install temporary or additional power for the seasonal battery chargers.
"Determining the number of chargers a battery room requires is simple," said Vanasse. "The iBOS battery room management system provides the data needed to optimize battery room performance at the lowest possible capital cost."
To learn more about Battery Charger Splitters, call 215-616-0390 or email at info@phlsci.com.
About Philadelphia Scientific LLC
Since 1983, Montgomeryville, Pa.-based Philadelphia Scientific has brought advanced technology solutions to the industrial battery industry.  The company specializes in the research, design, development and manufacturing of industrial battery components and tools that maximize battery performance.  For more information about Philadelphia Scientific, visit the company's Web site at www.phlsci.com or contact the company at 215-616-0390.