PowerChanger™
Save time and money with the world's leading battery changers.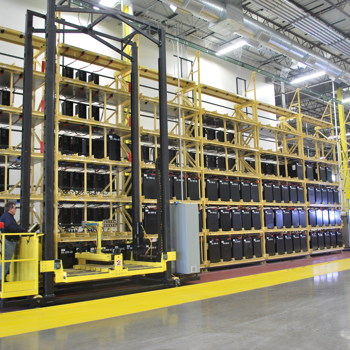 For large forklift operations that require safe and efficient battery changing the PowerChanger is the ideal solution. With the electrical drive and separate hydraulic power system for its lift, and operation of the transfer arm, the PowerChanger is unmanaged for fast, smooth, battery changes. By separating the drive and lift systems a lifting speed of 8 metres per minute and travel speed of up to 80 metre per minute can be achieved. This is one reason why the PowerChanger is among the most efficient machines on the market today. 
The PowerChanger is operated from the easy to use joystick controls and is powered from an overhead pickup rail. With two compartments, the PowerChanger lets you make the maximum use of your rack space while operators remove and replace batteries quickly and efficiently. The unyielding frame, double-80 leveling chains, and sturdy roller carriage make the PowerChanger stand out above any other battery changer on the market. In high usage and high abuse applications, there is no comparison to the PowerChanger.
Safety is designed into all aspects of the PowerChanger. The standard PLC controlled battery safety lock system prevents the operator from discharging a battery off the carriage unintentionally. This unique lockout system utilizes four polarized retro-reflective photo eyes and a small PLC controller to monitor the position of the battery in the carriage. This type of system forces the operator to decide when it is safe to discharge a battery from the carriage.
Another safety feature of the PowerChanger is the deadman operator platform. This platform allows full access to the control panel and allows the operator complete freedom of movement during each battery change. The floor of the platform is cushioned with anti-slip padding, and handholds are provided for the operator to use during battery changes.