Adjust-A-Rack™
Adjustable solutions for medium to large sites.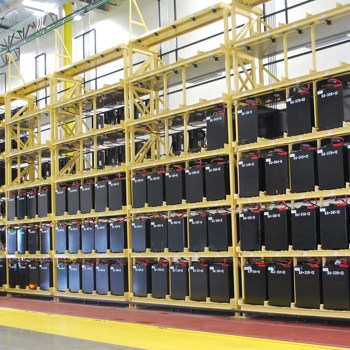 With Adjust-A-Rack, you can change the configuration of your battery compartments as required. Adjust-A-Rack allows you to fully utilise all your available space.
The fully-adjustable multi-level Adjust-A-Rack is designed to adapt to your battery system's changing needs. As the size of batteries in your system changes, additional battery slots are created by simply adjusting the individual battery compartments to accommodate the new batteries. These racks are also designed to house rear, top, and side charger shelves allowing you to maximise the space available for battery changing. The heavy-duty slide strips and bolt-on rollers provide smooth battery placement and removal and are designed to hold batteries securely in place during charging. Also important are the adjustable battery backstops that keep all your system's batteries at the front of the racks for easy battery retrieval. The Adjust-A-Rack is designed to be used with the PowerChanger™ range of battery changers.
• One to six levels high
• Modular design
• Fully adjustable battery compartments, width, and depth
• Ultra High Molecular weight (UHMW) slide strips with lead in rollers.
- Contact Philadelphia Scientific for specifications on the best solution for your application.