COVID-19 - UK Update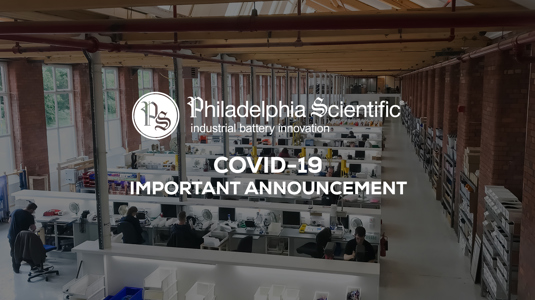 Dear Valued Customers,
We have all been urged to take every possible precaution in this fight against COVID-19.    The recommendations are changing rapidly as we try to adapt to this new reality. We are in unchartered waters and are acutely aware of the impact that this has not only within our industry but on the world as a whole.  As per the current guidelines, we are still operating, but with limited staff.  Those who can work remotely, are doing so.  Due to the significantly reduced staff, there may be an impact in response times and deliveries for any new and outstanding orders, and I hope you can appreciate that it will only be a temporary issue.
We have considered many different solutions to the challenges we face.  Many of our partners and customers provide critical infrastructure equipment to the supply chain.  This equipment is crucial to move products such as food, medical, and pharmaceutical supplies and they have requested that we stay open for business if possible.  We supply these companies with products and services that are critical to keeping their equipment operational.  For this reason, we have decided to continue production with limited staff.
We value the safety and health of all our employees, and for this reason, we have taken the following steps to ensure their safety:
Our remaining staff will be spread out across the facility, minimizing any potential contact.
Use of communal areas, such as canteens, meeting rooms and break rooms are restricted, and employees must stay at least 2 metres from each other. Employees have been trained in social distancing and hygiene.
Employees have been made aware of COVID-19 symptoms and told to stay home if they feel ill.
Protective equipment will be utilized by members of staff on both manufacturing and logistics.
All orders will be entered and prioritized but might take longer than usual to fulfil.
Our project support team are still on standby for installations and support.
We are facing uncertain times, and we at Philadelphia Scientific are thankful that we can do our part in both protecting our staff, customers and the public, as well as helping to support the critical logistics companies to do the outstanding job that they are doing. 
Thank you in advance for your patience and understanding during these challenging times.
Sincerely,
Duncan Jones, Managing Director