BOS-CB6700

Chargers: 200 (max)
Scrolling display ports: 3

BOS-CB6710

Chargers: 350 (max)
Scrolling display ports: None
Dimensions: 23"H x 20"W x 8.5" D (58.42 cm H x 50.8 cm W x 21.59 cm D)
Weight:  39.75 lbs. (18.2Kg)
Input Voltage: 100-240 VAC 50/60 Hz
Power Usage: 1.3 Amp (max)
Power cord length: 1 Ft (30.5 cm) (to UPS)
System Diagram with Peripherals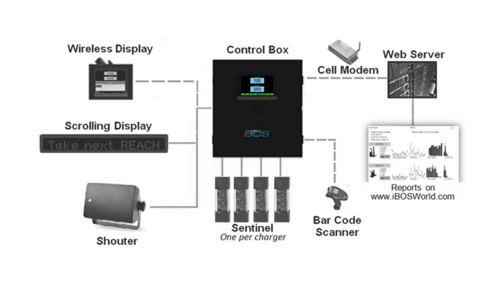 Can the iBOS detect a bad battery?
Yes, the iBOS system generally serves as a quality control device to give out batteries that are fully charged and cooled down the longest. When a battery is connected to the charger, the iBOS records the connect voltage of that battery with the date/time stamp of the connect event.

The iBOS system tracks the voltage profile of the charge cycle through the charging process. If the battery fails to achieve the correct voltage level within the next 24 hrs, the battery is considered a charger fail (Charger No Start on the batterymanagement.net website) and is put into Quarantine and the operator is notified through the iBOS control panel screen.