Model: GUN-J
Nicad Battery Watering Gun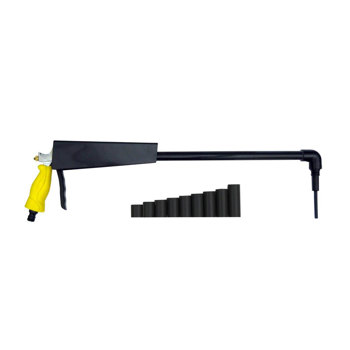 The Gun-J has been designed to fill NiCad batteries quickly, easily and accurately. Simply connect it to your water supply - Deioniser, Gravity Tank, HydroFill or, if the mains water meets battery water quality standards, a hose direct from the tap. When the battery is full and the Gun-J automatically shuts off to prevent over-filling and flooding the batteries. 
The highest quality components are used throughout the Gun-J to prevent cracks and water leakage commonly found with other connectors whilst the 'Gun' handle and trigger operation are proven to be the most ergonomic option for hose connections.
The low-pressure connectors such as the Gun-J should never be used with Water Injectors.
Ergonomic pistol grip.
Higher PSI rating for quicker filling.
Stainless steel components.
Input/Operating Pressure: <100psi
Pressure Regulator: 15psi  
System Exposure Temperature: 2° to 71°C
Weight: 0.4 kg
Product Height: 23.5 cm
Product Length: 38 cm
Product Width: 4.1 cm
Shut off: Automatic Shut-Off via SPWS