What is the best battery handling system for my battery room?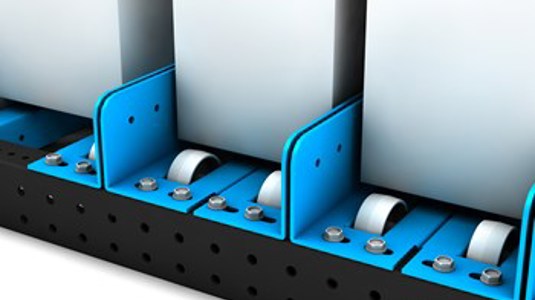 Gone are the days of inflexible, low density and unbrandable battery racking. We want to introduce to you the innovative MOD. RACK battery racking system. 
Old-fashioned racks can have many problems.
Traditional battery racking systems are essentially the same, made up of welded frames with conveyor rollers. The way they are designed means that they can waste essential space in the battery room with rollers that are wider than the batteries, along with extra space for the axles. Traditional rollers also are prone to rusting and denting over time. They do not have any battery dividers either, so your batteries end up looking messy and unorganised. 
Unfortunately, if you have this kind of traditional racking, you can often be stuck with it. If you would like to expand or need a larger capacity of batteries, this conventional type of racking will limit what you can achieve. You may end up having to get rid of the whole racking and essentially start again from scratch. 
Introducing a whole new concept in battery racking systems.
Philadelphia Scientific's MOD.RACK system is the new modern and flexible alternative to storing your batteries whilst also being charged. The MOD.RACK system can free up to 20% more space than traditional models, leaving more room within the warehouse. The MOD.RACK is also 100% acid-resistant and features innovative dent and rust-proof components made from laser cut high tensile steel.
The system components are specially designed to be flat packed on a double euro-pallet for ease of shipping. They can then easily be assembled once delivered onsite with no welding needed. 
Our pressed polymer battery stop will also reduce battery tray damage. These can be moved around to ensure that the front face of the battery sits in the correct position. 
Batteries look neat and tidy with colour-coordinated integrated battery dividers so that batteries are neatly arranged in their own space. 
Every battery requires at least two roller beams which are positioned to fit each battery. You can also add in a mid roller beam for heavier batteries, which means MOD.RACK can accommodate even the largest of batteries, so it can change and adapt as your business needs change.
They can easily and quickly be changed with minimal disruption by simply unbolting the roller beams and reconfiguring. This and all the other benefits make this racking system the most cost-effective available in the industry today. 
It can be branded in your company colours.
Each roller beam is the vertical divider that keeps the battery in place and ensures the battery room looks neat. The roller beams can be colour matched to your brand, guaranteeing a consistent brand flow across your site. 
Innovative features: 
Racking is 20% denser, leaving valuable space in your battery room

Fast and straightforward to reconfigure - easily expandable.

It can be personalised to your company colours

Heavy-duty, acid-resistant perimeter frame

Acid and rust-resistant roller beams that are powder coated to your colour specifications.

Low energy and acid-resistant polymer wheels

Easy to adjust battery stops

Single-bolt construction
All the components that make up the racking have been rigorously tested to ensure that the most durable materials possible have been used in its construction. It has been designed with flexibility in mind, and once reconfigured, it will still look like it has been newly installed.
MOD.RACK is quick and straightforward to put up and can easily be expanded or reconfigured, making it the most cost-effective and highest density racking system available in the industry. For more information on our MOD.RACK battery racking system visits www.phlsci.co.uk/modrack or contact sales@phlsci.co.uk.