Philadelphia Scientific Announces Upgrades to its iBOSWorld™ Web Service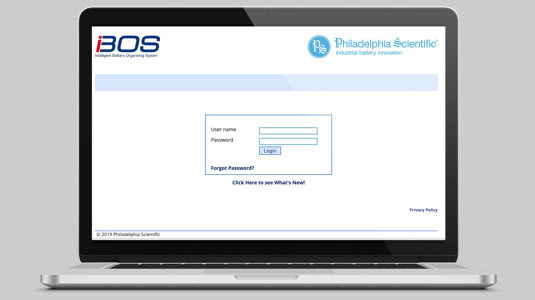 New battery cool-down time graph provides information that is critical to managing battery availability and battery room efficiency; other enhancements help managers summarize key battery and charger data.
MONTGOMERYVILLE, Pa. – April 16, 2010 – Philadelphia Scientific, a leading international manufacturer of industrial battery components and accessories, has introduced upgrades to its iBOSWorld™ Charger Management System Web Service, a Web-based platform that enables users to monitor and analyze battery room performance and create management reports remotely on the Internet. Upgrades include a new battery cool-down graph, which helps prevent inadequate battery cool down, a common cause of poor battery performance and shorter battery life. Among other enhancements is a summary section that highlights important charger performance information, enabling users to identify potential charger problems.
According to Dan Jones, president of Philadelphia Scientific, "A great deal of money is wasted in the battery room due to poor battery rotation. The most common cause of poor rotation is the selection of 'hot' batteries – batteries that have not adequately cooled after charging – which causes batteries to degrade more quickly. The iBOSWorld Web Service provides battery room managers critical information they need to ensure proper battery rotation and the most efficient operation of their forklift fleet."
The new battery cool-down time chart provides information on each battery pool's cool-down time after charging has completed. Managers can use this information to make more accurate battery purchasing decisions for their fleet and ensure the most cost-effective use of the company's assets.
The new iBOSWorld Web Service upgrades include cleaner looking performance graphs, which enable users to more easily compare key data sets and monitor even large numbers of battery chargers. Web site functionality also is improved as data tables can be more easily sorted and customized to provide information the individual manager wants most. New summary sections have been added to each of the site's main pages, enabling users to assess each battery pool based on key metrics. And interactive assistance is provided with most graphs through roll-over functionality that reveals helpful information.
Harold Vanasse, Philadelphia Scientific's vice president of sales and marketing, said, "The iBOSWorld Web Service gives managers of company-wide and multi-location distribution centers an asset management tool that helps them save money by 'right-sizing' their battery fleets. In the average battery room setting, the iBOS Charger Management System can save thousands – even tens of thousands – of dollars a year. The upgrades to the iBOSWorld Web Service make it easier to use iBOS to achieve those savings."
About Philadelphia Scientific
Since 1983, Montgomeryville, Pa.-based Philadelphia Scientific has brought advanced technology solutions to the industrial battery industry.  The company specializes in the research, design, development and manufacturing of industrial batteries, their components and tools.  For more information about Philadelphia Scientific, visit the company's Web site at www.phlsci.com or contact the company at 215-616-0390.