Introducing the Water Buffalo Mobile Water Supply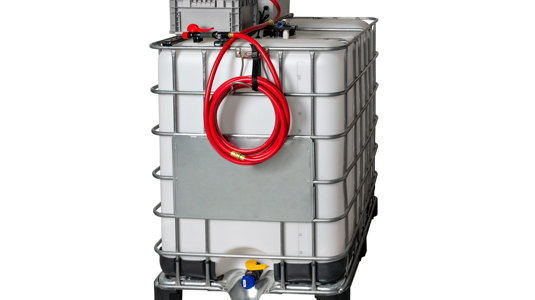 MONTGOMERYVILLE, Pa., January 29, 2018 – Philadelphia Scientific, the lean battery room experts, has introduced the Water Buffalo Mobile Water Supply, the industry's largest capacity water tank. The 300-gallon mobile water supply is the ideal watering solution for fast and opportunity charging applications.
Fast and opportunity charged batteries never need to visit the battery room for charging or watering, so water supplies must be taken to them. Using an average size watering tank requires multiple tank refills and multiple trips to fill all a fleet's batteries. The Water Buffalo's large size saves valuable time and effort in the warehouse or DC, enabling personnel to water a fleet of batteries 15 times more efficiently than a 20-gallon watering tank.
Water Buffalo is pallet mounted and is designed to be easily transported by rider pallet truck. It is DC-powered by the 24-volt battery on the rider pallet truck. An onboard inverter converts DC to AC power. The Water Buffalo comes with a submersible pump and control unit – the same pump used on Philadelphia Scientific's HydroCart™ Mini and 20-gallon HydroCart™ Max. The pump shuts off automatically if there is not enough capacity in the battery to successfully operate the pump. A 16-foot industrial output hose with Instant Valve Pro is used to fill batteries. The Water Buffalo tank is filled by connecting its input hose to a building's water supply using a quick connect. An automatic shutoff valve enables the precise filling of the 300-gallon tank.
"For users of fast and opportunity charged batteries, Water Buffalo is a game changer," said Harold Vanasse, vice president of sales and marketing for Philadelphia Scientific. "Once you've experienced the time savings when using this 300-gallon water supply, you'll never go back to using a smaller tank."
The Water Buffalo Mobile Water Supply is delivered fully assembled. A Y-splitter, which is required for operation, is not included.
For more information on the Water Buffalo Mobile Water Supply and other leading industrial battery components and maintenance tools, visit the Philadelphia Scientific website at www.phlsci.com, call at +1 215-616-0390 or email at info@phlsci.com.
About Philadelphia Scientific
Since 1983, Montgomeryville, Pa.-based Philadelphia Scientific has brought advanced technology solutions to the industrial battery industry. The company specializes in the research, design, development and manufacture of industrial battery components and tools that maximize battery performance. For more information about Philadelphia Scientific, visit the company's Web site at www.phlsci.com or contact the company at 215-616-0390.