Philadelphia Scientific Introduces the iBOS® Lite forklift battery management system.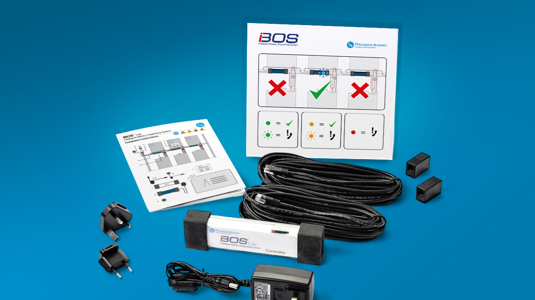 BOS Lite simplifies battery selection, reduces the time spent changing batteries and increases battery run time and battery life.
MONTGOMERYVILLE, Pa. – January 9, 2013 – Philadelphia Scientific, The Lean Battery Room Experts™, a leading international manufacturer of industrial battery components and accessories, has introduced iBOS® Lite. iBOS Lite is the latest addition to the company's industry-leading line of intelligent battery room management systems. For industrial forklift operators, the new iBOS® product takes the guesswork out of choosing the proper battery by utilizing a bright blue light to indicate which battery is fully charged and is the most cooled down. It is easier to use than other battery room management systems and is offered at a lower cost. iBOS Lite is ideal for smaller fleets of five to 30 chargers.
iBOS Lite offers simplified and directed battery selection that saves money in three ways:
Faster battery changes: Warehouse personnel can save two to five minutes per change.

Less frequent battery changes: The number of battery changes can be reduced by 10 to 20 percent, increasing productivity.

Longer battery life: iBOS Lite can increase battery life by six months due to longer battery cool down times and more even battery usage. And longer battery life results in fewer battery purchases each year.
iBOS Lite manages up to 50 chargers for each battery type using simplified controller and monitoring technology. All chargers in a pool must be the same voltage and used for the same application. The system works on all high frequency, SCR and Ferro Resonant chargers in a conventional battery changing application. Installing the new iBOS product is simple and can be done with a warehouse's maintenance staff and standard tools.
"A great deal of money is wasted in the battery room due to poor battery rotation," said Harold Vanasse, vice president of sales and marketing for Philadelphia Scientific. "iBOS Lite provides an easy, cost-effective solution to properly manage battery fleets. It is just the latest addition to our family of Lean Battery Room products that help reduce waste and save money in the warehouse or DC."
For more information on iBOS Lite, contact Philadelphia Scientific by phone at +1 215-616-0390 or by e-mail at info@phlsci.com. Stop by booth 241 at ProMat 2013 to learn more about the company's Lean Battery Room product portfolio.