Philadelphia Scientific Introduces the Changer-Mounted Water Supply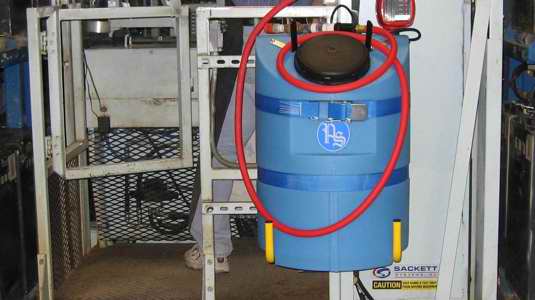 Philadelphia Scientific Introduces Changer-Mounted Water Supply
The product offers the convenience of a water supply when retrieving charged batteries that don't have sufficient water and fits most battery changer brands.
Philadelphia Scientific, a leading international manufacturer of industrial battery components, accessories and tools, has introduced a changer-mounted water supply, which enables battery room personnel to immediately water batteries even as they are being retrieved from a charging rack. This enables personnel to combine two tasks into one, saving time and improving efficiency.

When battery room employees retrieve a charged battery from a charging rack, it is often difficult to tell if the battery has sufficient water. Even when the battery is fitted with a battery watering monitor, it can be difficult to see the monitor when the battery is on a second or third level rack. With the changer-mounted water supply, employees can water a battery on the spot within seconds and continue with their activities.

The changer-mounted water supply features a powder-coated industrial steel frame that cradles a sturdy 20-gallon polypropylene tank. The frame is secured to the back frame of a battery changer and fits most battery changer brands. A submersible pump, which is mounted inside the tank, provides the water volume and pressure required by the Philadelphia Scientific single-point Water Injector System™. A highly visible control unit is mounted on top of the tank and provides an on-off switch, power indication and run-dry protection. The controller also shuts the pump off after 10 seconds of non-use to save energy and conserve pump life. Twenty feet of 5/8" industrial hose is supplied with each unit.