Stealth Valve
Best in Class Float Valve
The standard body type of the Stealth Watering System™ fits the vast majority of batteries on the market and is the correct size to use in most cases. The wider float diameter of the standard body type provides a greater shut-off force than the Stealth Slim valve. 
The system is a float-based, single-point watering system that precisely fills all battery cells to the same level simultaneously. It is designed to sit lower than the intercell connectors when installed on a battery. This means reduced damage from the battery's cables as they move across the top of the battery.   
The Stealth Watering System, like all float-based watering systems, is not designed to be used in high temperature or abusive situations. The Water Injector System is the better choice for these situations due to its robust design and high shut-off force.
The Stealth Watering System™ incorporates many unique features that make it the best in its class and the most convenient to install: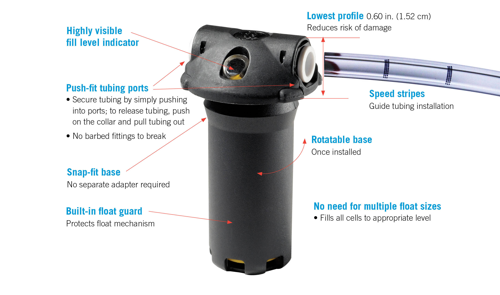 Input/Operating Pressure: 3 to 45 psi (0.21 to 3.10 bar)
Acceptable Filling Temperature: 35° to 160°F (2° to 71°C)
Valve Body Material: Polypropylene
Max Valve Height above Vent: 0.60 in (1.52 cm)
Flow Rate: 0.20 gpm per valve  (0.76 lpm)
System Exposure Temperature: -20° to 160°F (-29° to 71°C)
Tubing Material: Proprietary Flexible PVC
Fitting Type: US 1/4  turn and DIN
Weight: 1.1 lb (0.49 kg)