Model: GUN-A
Battery Watering Gun (SPWS)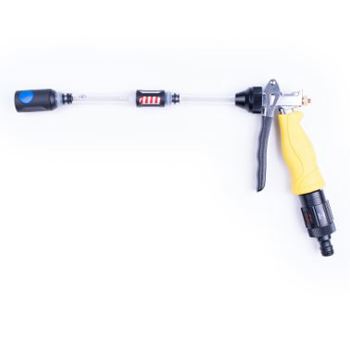 The Gun-A connects to your water supply - Deioniser, Gravity Tank, HydroFill or, if the mains water meets battery water quality standards, a hose direct from the tap, to regulate the water pressure down below 15psi to work with float style watering systems such as AFS, BFS and Stealth.  With the water supply on simply pull the trigger on the ergonomic handle and watch the water flow through the barber pole indicator.  When the battery is full and the filling system has stopped disconnect the Gun-A with the blue button. 
The highest quality components are used throughout the Gun-A to prevent cracks and water leakage commonly found with other connectors whilst the 'Gun' handle and trigger operation are proven to be the most ergonomic option for hose connections.
The low-pressure connectors such as the Gun-A should never be used with Water Injectors.
Ergonomic pistol grip.
Higher PSI rating for quicker filling.
Stainless steel components.
Blue button disconnect for AFS, BFS and Stealth (other disconnects are available by request).
Highly visible barber pole indicator.
Input/Operating Pressure: <100psi
Pressure Regulator: 15psi  
System Exposure Temperature: 2° to 71°C
Weight: 0.4 kg
Product Height: 23.5 cm
Product Length: 38 cm
Product Width: 4.1 cm
Shut off: Automatic Shut-Off via SPWS