eGO!3 Battery Life Monitor
The most cost effective way to measure and maximise battery life and performance.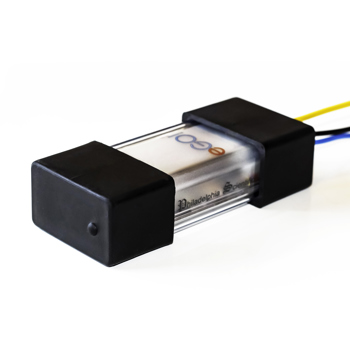 Forklift batteries may be the most overlooked and under-managed assets in a warehouse yet when they aren't properly maintained they can significantly reduce productivity and may require expensive repairs or even premature replacement.
The eGO!3 Battery Life Monitor is the key to unlocking the data hidden away in your battery. There are no other battery life monitors available on the marketplace today that provide the same level of battery information and it comes with a range of indicators from our award-winning SmartBlinky range of products. Our industry-standard battery water monitor shows when the battery needs water and our temperature monitor features a high-temperature indicator to alert operators if the battery is overheating.
The eGO!3 constantly records usage data. Once the data has been uploaded to batterymanagement.net it can be used to:
Pro-actively improve maintenance procedures.
Increased run-time and reduced costs.
Assign accountability for battery abuse.
As more battery data values are recorded, and the information is easy to understand, it turns your normal battery into a smart battery.
The underlying success of the entire eGO! range is the data it provides and the information it can give the end-user. Creating smart batteries creates a smarter battery room helping to make the job of monitoring your assets smarter too. Whether you access the information periodically, in real-time using our innovative data hub; batterymanagement.net or on-site using our eGO!Tools app, you'll have every single byte of data at your fingertips.
Having the data presented in an easily accessible and understandable way allows users to make clear, informed decisions in regards to changes in operations and shows clear accountability for any battery abuse. This gives everybody the transparency needed if something does go wrong with the battery as the problem can be quickly and easily diagnosed.
Advanced data transfer: Send data automatically or manually via long-range wireless technology that will not conflict with existing RF communications in a warehouse.


Easy to use: Simply log onto www.batterymanagement.net to view your battery information.


Remote access: Know what is happening with your batteries and deal with problems immediately without having to visit the site.


Cost effective: Market leading technology at the best price.


A powerful suite of battery management technology: Use eGO!3 battery information with iTAG™ MHE paper free asset and service tracking and the iBOS® battery management system for total understanding. 


Quick and easy to install: Only three leads: two to connect power and one for the electrolyte probe. Complete the fields in the eGO!Tools app with the battery information and press send.


Fully fused: To protect the device and battery.


Five-year design life: Designed to last the life of a battery with a polycarbonate impact-resistant housing.


4th generation software: Tried, tested and proven for more than 10 years.


Warranty: The eGO!3 comes with a one-year conditional warranty.


Customer branded: Put your company's logo on the eGO!3 and the www.batterymanagement.net dashboard.
Operating Voltage

Nominal Current

12.0v

30 – 100mA

Indications

Amber – Over Temperature

 

Green Flash – OK

3 Green Flashes then 1 Red – Fill Soon

Red Flash – Fill Now

Blue – Wireless communications operating

Reverse Polarity

Yes

Connections

(S) M3 steel ring and screw

(Q) FlexiTap piercing

Flame Retardant

No

IP

65

Fuse

2 on board, plus 1 inline (S), 2 in FlexiTap (Q)

Warranty

1 year
My eGO!3 flashes green three times then red once, what does this mean?
The eGO!3 Is telling you that your battery needs to be filled soon, this is normal behaviour.
How do I perform a manual upload?
There is a small protrusion on one end of the eGO!3, press this firmly twice, the eGO!3 will now initiate a manual upload. The blue LED will flash 19 times during upload then hold a solid blue light.
My batteries are gel filled, is this product suitable for me?
Yes, there is a specific version of the eGO!3 for Gel batteries. Further information is available from your local Philadelphia Scientific distributor.
My eGO!3 is flashing red, what does this mean?
This means that your battery needs to be filled now, you should fill at your earliest convenience.