Attach-A-Puller
Portable powered battery changer for medium sized fleets of batteries.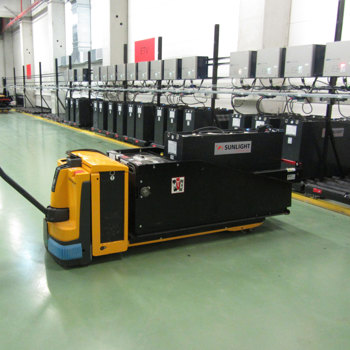 Manual handling of industrial batteries can be dangerous as well as time-consuming. Many health and safety policies now require that equipment is provided to assist in handling heavy items. Manually changing large amounts of batteries is an inefficient use of labour, not to mention exhausting.
The Attach-A-Puller is a portable powered battery transfer cart that can be mounted to any powered pallet truck with suitable forks and is ideal for medium-sized fleets with 10 to 40 battery changes a day. The operation is simple; an electromagnetic attachment controlled by the easy to use joystick safely transfers the battery back and forward. The adjustment height of this unit is dependent on the pallet truck on which it is mounted. It is also powered from the pallet truck battery, so no additional power source is needed. The Attach-A-Puller can be ordered with convenient fork pockets for use on multiple trucks. By utilising existing equipment, the Attach-A-Puller is incredibly cost-effective.
When changing a medium-sized fleet of batteries in a charging room, the Attach-A-Puller is the answer. A portable powered unit is the safest and most cost-effective way to change industrial batteries. The Attach-A-Puller is the heavy-duty solution to handling problems associated with battery charging.
Multiple Models - With Attach-A-Puller models to suit every battery type you can sure of the most cost-effective solution.
Rugged Design - Designed to withstand the toughest battery change operations for a long, trouble-free, operating life the Attach-A-Puller has:

Heavy gauge steel frame construction
Acid resistant powder coat finish
Heavy duty rollers
Steel mechanical battery latch
Bipolar heavy duty electromagnet.

Safety First - The Attach-A-Puller is considerably safer than manual handling and has a full complement of safety features to ensure the risk in battery changing is minimised:

Hydraulic powered push/pull mechanism
Positive battery safety stop latch
Safety hook
Simple to operate
Magnet safety timer

Zero Manual Handling - Any manual handling of the battery is eradicated and with it the safety and time problems associated with changing shift batteries.
- Contact Philadelphia Scientific for specifications on the best solution for your application.